1.3.5 特别标记
由 superadmin 于 2020/11/02, 15:45 最后修改
---
特别标记
默认情况下,iTop使用light-grey主题来指定控制台的外观。我们添加了一个新主题,使您可以快速识别使用主题test-red的测试实例
这些主题可用于区分iTop测试实例与生产环境,因为这是根据iTop实例定义的。
如何以变更为主题
    'backoffice_default_theme' => 'test-red',
如果使用内置的iTop配置编辑器,请在保存主题后刷新页面以查看更改。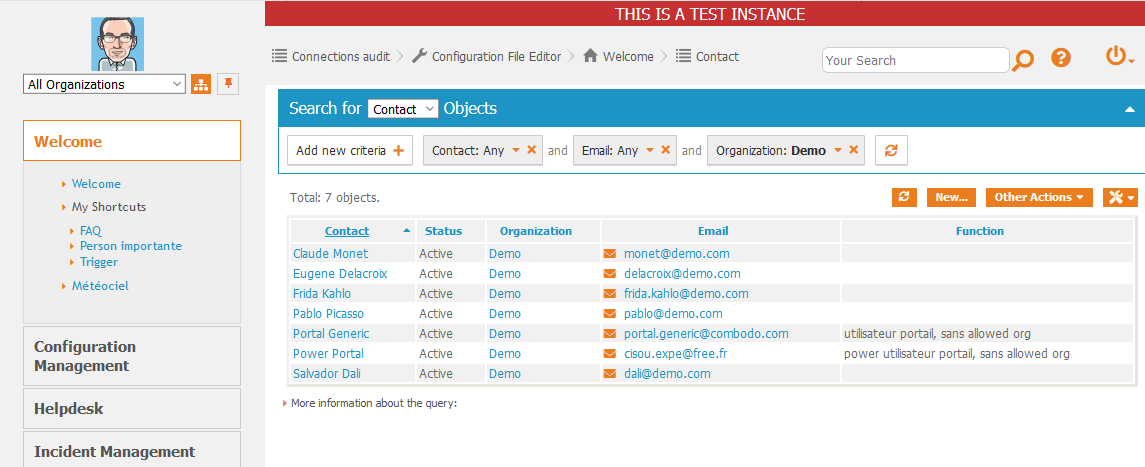 更改控制台颜色
您可以修改控制台颜色 带有扩展程序或使用ITSM Designer面向Combodo的客户。
优拓标记
使用2.7,我们在某些页面(控制台和门户)中添加了标记信息:
一些标记
在对象细节上添加了标记:
data-object-class="UserRequest"

data-object-mode="view" or "edit"
在对象的详细信息中在字段上添加了标记
data-attribute-type="AttributeEnum"

data-attribute-code="status"

data-value-raw="new" - For an enum, this is the code not the translated value
在对象列表中的一行上添加了标记
在对象列表中的字段上添加了标记
客制化
使用添加的标记HTML,您可以编写简洁的代码来修改对象在iTop中的显示方式。
这是一个例子:在控制台中突出显示状况
转贴链接:https://www.itophub.io/wiki/page?id=2_7_0%3Afeature%3Amarkup
---
Identify test instances
iTop uses by default the light-grey theme, to specify the look and feel of the Console. We have added a new theme to identify at a glance, your test instances using theme test-red
Those themes can be used to differentiate your iTop test instance from your production environment, as this is defined per instance of iTop.
How to change the theme
    'backoffice_default_theme' => 'test-red',
If you uses iTop built in config editor, refresh the page after having saved the theme to see the changes.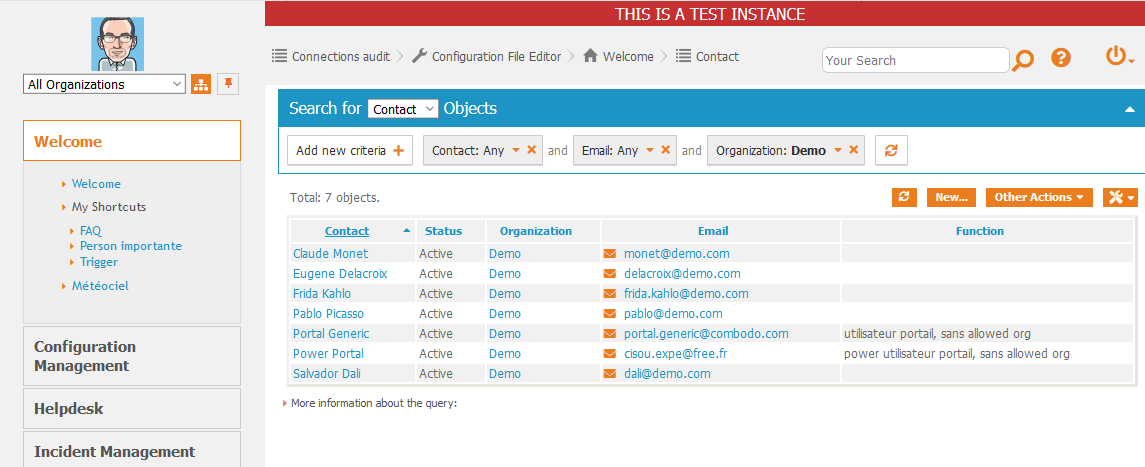 Changing the Console colors
You can modify the Console colors with an extension or for Combodo's customers with the ITSM Designer.
iTop Markup
With the 2.7, we have added markup information in some pages (console and portals):
Some of the markup
Added markup on an object details:
data-object-class="UserRequest"

data-object-mode="view" or "edit"
Added markup on a field within the details of an object
data-attribute-type="AttributeEnum"

data-attribute-code="status"

data-value-raw="new" - For an enum, this is the code not the translated value
Added markup on a row within a list of objects
Added markup on a field within a list of objects
Customization
With the added Markup HTML, you can write clean code to modify the way objects are displayed in iTop.
Here is an example: Highlight status in Console