2.6·20 数据库维护工具
由 superadmin 于 2020/09/02, 09:08 最后修改
---
数据库维护工具
名称:数据库维护工具
描述:用于检测数据库不一致性并提出修复建议的小型工具
版本:1.0.7
发布:2019-03-26
码:combodo-db-tools
状态:稳定
下载:https://store.itophub.io/en_US/products/combodo-db-tools
数据库维护工具
特征
数据库维护的工具。
数据库信息(大小)
数据库不一致检查
附件丢失或放错位置(从发送邮件到工单自动化)
修订记录
日期
版本
描述
2010-03-19
1.0.7
修复德语翻译中的错字
2019-01-03
1.0.6
修复错误的服务器回复的报告
2018-12-19
1.0.5
-在报告中找不到错误的修复文件
-检查唯一性规则
-在用户界面中为复选框添加缺少的<label>
2018-06-27
1.0.4
添加DE翻译
2018-06-26
1.0.3
修正标签错字
2018-04-11
1.0.0
第一次稳定修订
2018-02-23
0.0.12
启用2.5.0菜单覆盖功能。添加数据库信息(大小)选项卡。
2018-01-26
0.0.9
分析只能在一堂课上进行
2018-01-22
0.0.5
ID的显示是可选的
2017-12-14
0.0.4
数据库一致性检查
用法
在管理菜单中添加新菜单项:数据库工具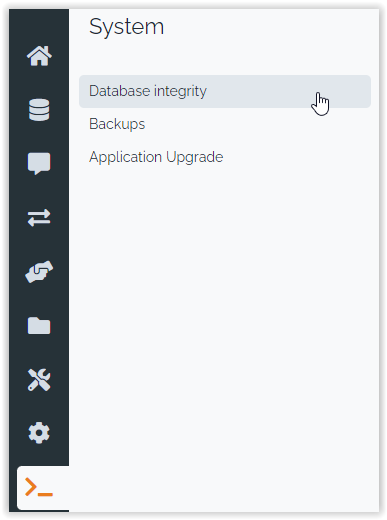 数据库信息
显示数据库的大小。
数据库不一致
各种显示模式可用:
失误
仅显示数据库不一致。
错误与价值观
显示相应的字段值。
错误和ID列表
生成ID列表以生成SQL SELECT
报告
生成所有不一致之处,并允许用户将结果下载为压缩文件。
丢失的附件
在这里,您可以搜索来替换丢失或放错位置的数据库。这不是数据恢复工具,也不是检索已删除的数据。
原文:https://www.itophub.io/wiki/page?id=extensions%3Acombodo-db-tools
---
Database Maintenance Tools
name:

Database Maintenance Tools

description:

Small tools to detect database incoherences and propose fixes

version:

1.0.7

release:

2019-03-26

code:

combodo-db-tools

state:

stable

download:
Database maintenance tools
Features
Tools for database maintenance.
Database inconsistency check

Lost or misplaced attachments (from email to ticket automation)
Revision history
Date
Version
Description
2010-03-19
1.0.7
Fix typo in German translation
2019-01-03
1.0.6
Fix bad server response for reports
2018-12-19
1.0.5
- Fix file not found error in reports
- Check uniqueness rules
- add missing <label> for checkboxes in the UI
2018-06-27
1.0.4
Add DE translation
2018-06-26
1.0.3
Fix label typo
2018-04-11
1.0.0
First stable revision
2018-02-23
0.0.12
Enable 2.5.0 menu overriding capabilities. Add Database info (size) tab.
2018-01-26
0.0.9
Analysis can be done on one class only
2018-01-22
0.0.5
The display of the IDs is optional
2017-12-14
0.0.4
Database consistency check
Usage
Adds a new menu entry in the Admin Menu : DB Tools
Database Information
The size of the database is displayed.
Database inconsistencies
Various display mode are available:
Errors
Display only database inconsistencies.
Errors and values
Corresponding field values are displayed.
Errors and Id list
Generate a list of IDs in order to generate an SQL SELECT
Report
Generate all the inconsistencies and allow the user to download the result as a zipped file.
Lost attachments
Here you can search your database for lost or misplaced attachments. This is NOT a data recovery tool, is does not retrieve deleted data.